Monday, October 19, 2009
The Halloween Creature class will be Oct. 30th at 6:30 Only a frew spot left. E-mail to save your seat.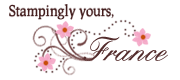 France Martin
It's me Frenchie with a little french accent living in the United Stats, that love to created and shared paper crafting. Hope I inspired to create your own creation with paper. Thank you for stopping by. Come again soon!