Wednesday, October 28, 2009
Here another cards from Jill with the little pumpkins. This set is in the mini page 9 Pumpkin Patch #116499.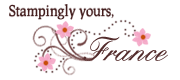 France Martin
So in short I'm a child of God, a wife, a mom, sister (4 girls in my family no brother but many brother in law), love the outdoor and YES a Stampin'Up! demo of 13 plus years and still counting. That is me in a nut shell.