Wednesday, October 28, 2009
Here another cards from Jill with the little pumpkins. This set is in the mini page 9 Pumpkin Patch #116499.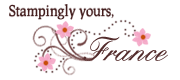 France Martin
It's me Frenchie with a little french accent living in the United States, that loves to create and share paper crafting. Hope I inspired you to create your own creation with paper. Thank you for stopping by. Come again soon!