Friday, November 20, 2009
This is card that I received at Founder' Circle form Lisa Schmid. Love it!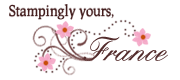 France Martin
So in short I'm a child of God, a wife, a mom, sister (4 girls in my family no brother but many brother in law), love the outdoor and YES a Stampin'Up! demo of 13 plus years and still counting. That is me in a nut shell.