Saturday, January 23, 2010
Happy Saturday Stampers,
Saturday is the new schetch for Stamping 411 so I took the time to play again.
Enjoy!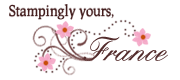 France Martin
So in short I'm a child of God, a wife, a mom, sister (4 girls in my family no brother but many brother in law), love the outdoor and YES a Stampin'Up! demo of 13 plus years and still counting. That is me in a nut shell.