A quick update for the one that use Internet Explore I put in the subject to click on my logo so I hope you try this so in the future when the e mail come blank just click on my logo and this should do the trick and open the content. **Only the one that use Internet Explore encounter this problem. Sorry it is nothing I can do at this end it is the Explore that is not up to date with today internet :)
For today post it is all about my team.
I challenge my team to use the lovely new Bundle the Thoughtful Bundle and WOW some awesome cards they share and this is just a few of them. I'm sorry some of the picture I couldn't have them larger but you still will have many different way to use this bundle.
Please note that this is any available while supplies last or Aug 31, 2016.
The first 6 cards are all made by Barb C. Bard is our beaver on our team I think she share with us at least 16 cards with this bundle, everyday she find time to stamp and share, we sure love her creation. Thank YOU Barb for all the great ideas using the Thoughtful Branch.
This set is perfect for reflection/shadow and if you are not sure how this is done I have a video to show you how to use the clear block to make the reflection CLICK HERE for the video
What a fun Hedgehog done with the framelits, Scallop circle, 3/4 circle punch and heart punch so CUTE
The background is the stamp set Watercolor Wash she drag the ink pad direct on the stamp to add the ink in multi color and she told me she use her finger to blend the color between each one or I would maybe use my aqua painter to join the colors.
Oh! all the possibility with this bundle is endless!
these are just a few of Bard so now you now what I call her the Beaver!
The lovely hydrangea was created by Elizabeth perfect example to show the tree transform in a flower. Thank you Elizabeth for sharing your lovely creation with us.
This Christmas card made by Margo. If you plan on doing lots of Christmas card this would be a great one a little time on the dazzling but I thing assembly line would be perfect for this card. Thank YOU for sharing.
This lovely tag was make by Steph s So perfect for Christmas tag and the next card also made by Steph so pretty in the Sweet Sugarplum remind me of the lovely Red Tree in the spring here in Texas they are call it red Tree but they have the most beautiful pink flower. Thank YOU Steph for sharing.
This one is made by Estie so elegant and clean. Now you can see the tree leave become a flower to me it look like a hydrangea so pretty. Again versatile flower and leaves the same die. Thank YOU Eastie for sharing your lovely flower.
This one is made by Verna I call this one the traditional one and for back to school this is a perfect card with the apple. It so funny that most time we forget about the traditional use of a image Thank YOU Verna to reminded us the traditional Tree :)
This one was made by Kathleen OH! so striking in ALL white yes this is all white. I love that it is only one color but we can see all the layer what a pretty card and perfect for welcoming a new born "adding a branch to the tree" or Congrats to someone is expecting their first child starting their own Family Tree but really this would go for ALL occasion even Christmas. Thank YOU Kathleen for sharing your creation with us.
Well my friends I bet your agree with me and my team that this set is very versatile plus not to forget about the lovely greeting in this set such a nice font. Love this set but remember while supplies last.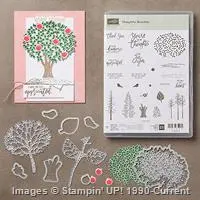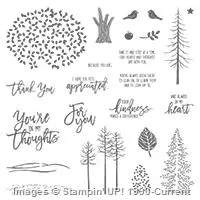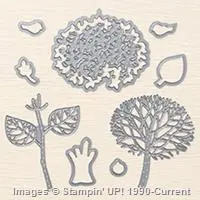 Get some of Frenchie cards! Customer Appreciation. All order of $40.00 or more before tax and shipping place on my online store with Hostess Code
FPU6BEKR
qualified for a FREE gift mail directly to your mail box. what will be your gift 5 hand stamp cards, 12 piece 4 x 5½ designer paper, post it note for cards. If your order is over $150 DO NOT enter the hostess code so you get all the stamping rewards and I will send you a gift.
CLICK HERE
to shop with me. Thank YOU for your support